Drinking Yerba Mate was once thought to be an exotic rarity when done anywhere outside of Argentina, Paraguay, Brazil, Uruguay, and a few other select places in South America, now however, it is now growing into more popular globally.
Yerba Mate's many health benefits cannot be ignored, and the way it is able to provide a feeling of alertness without any of the jitters associated with coffee and other caffeinated drinks makes it a viable option for those looking for a better morning pick-me-up.
Yerba mate is much more than a fleeting health trend. Nonetheless, when something "new" pops onto the health food scene, its first exponents are celebrities. After all, they often have access to the latest and greatest in everything, and that includes teas and other herbal infusions.
Here are 10 famous celebrity Yerba Mate drinkers from the worlds of film, music, sports, and politics:
Although he was born to a Danish father and an American mother in New York City and spent most of his formative years in that major metropolis, this prolific actor probably best known for his role as 'Aragorn II, son of Arathorn' in Peter Jackson's epic 'Lord of the Rings' movies spent his early childhood years living in the Argentinian provinces of Cordoba and Buenos Aires.
It was during these years that a young Mortenson became a fluent Spanish speaker, an ability which he used to great dramatic effect in the 2006 Spanish film 'Alatriste'.
He also picked up some homegrown 'gaucho' habitsΓÇöhe became a lifelong supporter of San Lorenzo de Almagro football club from the Buenos Aires neighborhood of Boedo, and he became a fan of drinking yerba mate.
Evidently these two childhood passions are still deeply entrenched in the adult Viggo Mortenson, for here we see him on location for one of the Lord of the Rings movies keeping warm with a hot yerba mate and shielding himself from the icy rain with an umbrella decked out in San Lorenzo de Almagro colors!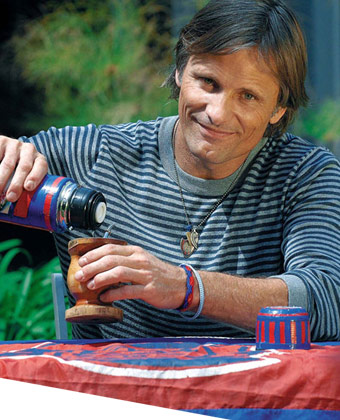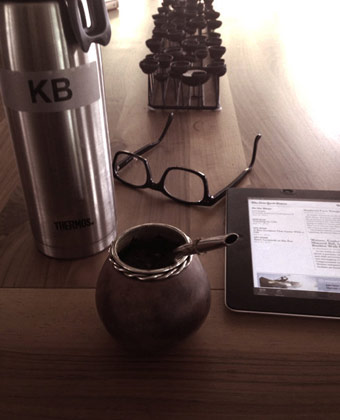 From his role as a rebellious teen who dares to dance in a religious small town despite the efforts of an overbearing and ultra-conservative preacher to ban music and dancing in the 1984 classic 'Footloose' to his more recent critically acclaimed role as a troubled FBI agent hot on the heels of a serial killer with a rabid cult following in the TV series "The Following", actor Kevin Bacon is as big a Hollywood star as there is.
Still, this doesn't mean that the Golden Globe and SAG award winning actor isn't above responding to his fans on social media, especially when it comes to his preference for drinking Yerba Mate in the morning.
In 2013 Bacon tweeted out a picture of his morning ritual: there was a copy of the New York Times newspaper, a thermos with the initials 'KB' printed on it (so he wouldn't lose it, he said) and of course a Yerba Mate gourd and bombilla.
In 2016 Bacon tweeted out a video of his Yerba Mate ritual in response to a fan from Argentina asking if he was still drinking it. The video response was much loved and shared across the inter-web.  The video tweet was of him toasting towards the camera with his Yerba Mate gourd and then taking a sip of the hot brew. Salud!
Normally when you think of a super famous heavy rock band like Metallica, and you imagine their habits in the studio and behind the scenes, the tendency is to picture either a bunch of beer cans strewn around on the ground, a half empty bottle of Jack Daniels, or maybe some other more illicit substances on the scene.
You wouldn't be completely off base for thinking that members of Metallica like to party hard when they're rehearsing, recording or just generally rocking and rolling either; after all, there was a time when the band's antics earned them the nickname 'Alcoholica'.
However, for more than 15 years now Metallica guitarist and vocalist James Hetfield has been completely sober. (If you want to see some of what transpired in the months leading up to Hetfield checking himself into rehab, check out the brilliant Metallica documentary 'Some Kind of Monster').
Gone are the days that Metallica need to get intoxicated to bust out the jams, and if this photo from their latest recording sessions for their latest "Hardwired… to Self-Destruct" album are any indication it would appear that James Hetfield has some hot yerba mate is at hand at all times. This is likely a custom that he picked up from his Argentinian wife of many years Francesca.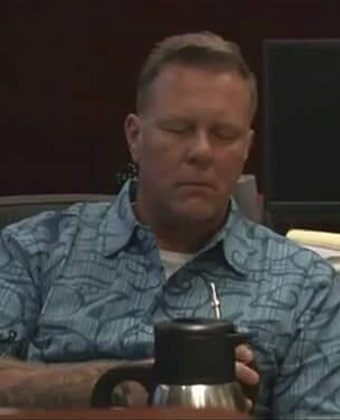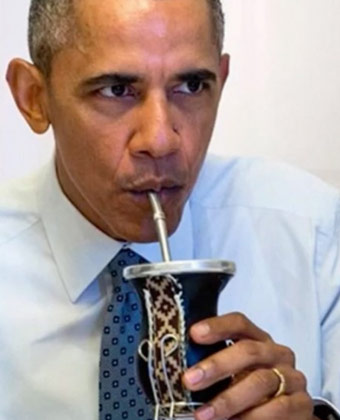 In March of 2016, then president of the United States Barrack Obama made a historic trip to the Argentinian capital city of Buenos Aires.
It was a monumental state visit for a number of reasons, first and foremost because it would see the Obama administration declassify literally thousands of US government documents pertaining to Washington's complicity with the repressive Argentine military dictatorship during the 1970s.
The then sitting US president had some information of his own to divulge some confidential information of his own, and during one of the meetings with the Argentinian press and officials he remarked that as a youth he had read renowned gaucho authors such as Jose Luis Borges, Julio Cortázar and others.
These authors would frequently mention Yerba Mate in their writings, and the young Obama always wandered what it was.
Luckily, Obama was offered the traditional herbal infusion on this occasion, and he was finally able to savour the famous medicinal tea he had read about in all of those books. This photo of the former commander in chief enjoying his first mate was taken by Pete Souza, the official White House photographer.
Of course no list of celebrities who drink Yerba Mate would be complete if we didn't include at least one professional footballer from Argentina. So why not include the most famous gaucho athlete currently playing, captain of the national soccer team and Barcelona FC superstar Lionel Messi.
Messi is obviously a Yerba Mate connoisseur of sorts, and he's constantly being photographed sipping the hot drink through his special silver bombillaΓÇöhe's even seen taking a quick swig on the sidelines after running off the playing field to refuel with the energising hot beverage in the middle of game play!
For anyone who drinks Yerba Mate as part of their daily routine, it's important to have the right utensils. It's even better if these implements are engraved or decorated to give them a personal touch.
Messi's thermos and mate canister are decked out with photos of his kids, which I guess I you're a world class pro athlete who drinks hot tea during games is the same as an office worker having some framed photos of their family on their desk at work.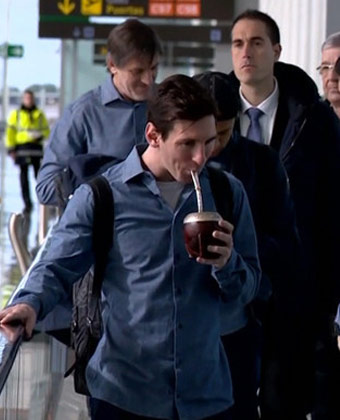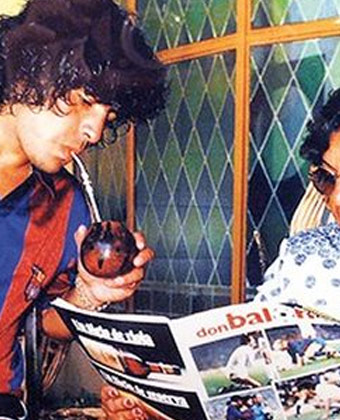 If Lionel Messi is to FIFA what Lebron James is to the NBA, then Diego Maradona is soccer's Michael Jordan.
No matter how many FIFA Ballon d'Ors Messi ends up winning (and by the way, he's won this most prestigious of all awards given to footballers can get 5 times, which is more than anyone else) he will always be compared to the Argentine attacking midfielder and striker who dazzled football writers and fans all over the world.
Diego Maradona with his incredible manoeuvres on the pitch playing for both the national selection of Argentina as well as Barcelona FC (although Maradona played for a number of other clubs as well, most notably S.S.C Napoli in Italy). In fact, Messi and Maradona even share the same number 10 playing jersey.
Another common thread that binds Messi and Maradona together is their love of Yerba Mate, and here we can see a photo of Maradona back in the early eighties sipping on mate while he and his mother read the sports pages together.
Although Yerba Mate is most closely associated with South American nations and cultures, and with Argentina in particular, other super famous Latin American celebrities from parts further north on the American continent also enjoy this tasty and invigorating healthy herbal hot drink.
For instance, take Guatemalan born singing star Ricardo Arjona. Now, for those in the English speaking world 'Ricardo Arjona' may not be a household name, but in the Planet's Spanish speaking parts the singer responsible for mega-hits like "Si El Norte Fuera El Sur" (If The North Was The South), "Fuiste T├║" (It was you) and others is as famous as famous can be.
Arjona lives in Miami -the capital of Latin America- from where he occasionally posts pics and videos of himself on his Twitter and Instagram in which he's seen with a thermos, Yerba Mate drinking gourd, and bombilla in hand. In one post he even laments " why is it that only the Gauchos make the best Mate?". As it turns out, one of Arjona's assistants is from Argentina and she prepares the mate (she…uh…boils the water).
Of course Yerba Mate has all the potential to be a global phenomenon, given its many nutritional properties. For many years it has been consumed by the Druze people in the middle east (Lebanon and Syria) who have it imported from Argentina.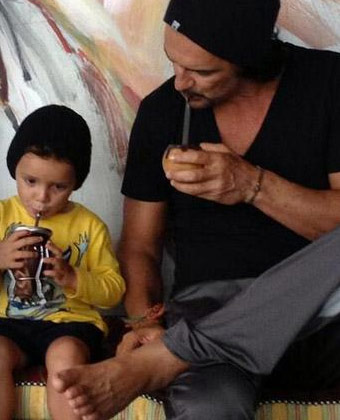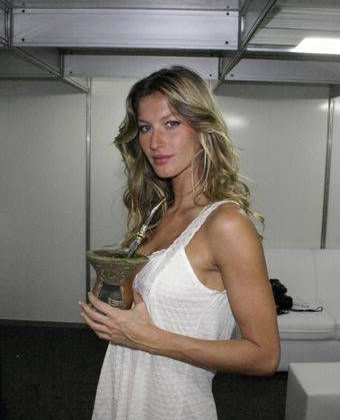 Although Argentine Yerba Mate is undoubtedly the most popular and widely consumed variant, it is by no means the only version of this traditional tea drink that dates back to the precolonial cultures of the Amazonian and Andean regions of South America.
Here we see Brazilian fashion model and actress (and New England Patriot quarterback Tom Brady's wife) Gisele Bundchen relaxing with some Chimarrão, which is a variant of Yerba Mate most common in Brazil.
Chimarrão and Yerba Mate are essentially the same in that they are both made from the same Ilex paraguariensis plant. The difference is that in Brazil they de-stem the plant and ground it into a finer powder for a slightly different brew and consistency.
The physical fitness guru and personal trainer to the stars Nicole Winhoffer revealed in an interview with 'Allure' magazine that during the many years that Madonna was one of her main clients, the material girl would routinely take supplements loaded with ginseng, Yerba Mate, and herbals during their high intensity exercise sessions. All of this clean burning energy must have done something right, because we've yet to see a photo of Madonna where she doesn't look like she's in incredible shape and she's pushing 60.
As for consuming Yerba Mate in the traditional way, it's hard to say if this is something that Madonna does routinely. Nonetheless, it's safe to assume that when she was preparing for her role as Argentina's favourite first lady Eva Peron in the 1996 film 'Evita' she probably sipped on a bombilla or two just to get into character.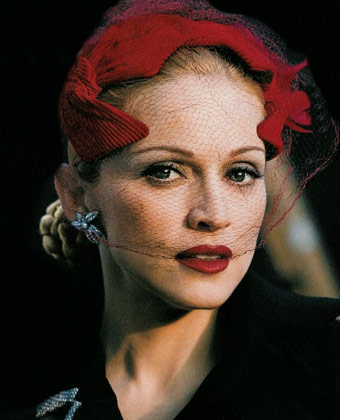 Our final celebrity who enjoys the soothing pick-me-up and healthy dose of nutrients provided by Yerba Mate tea is unsurprisingly an Argentinian.
He is indeed the most famous gaucho of them all: the leader of the Roman Catholic Church Pope Francisco. The current pope is constantly being filmed and photographed sharing a Yerba Mate consumed in the traditional way with a travelling countrymen who has made the pilgrimage from Argentina, Uruguay, Brazil or elsewhere to the Vatican.
After all, before he was Pope Francis his name was Jorge Mario Bergoglio and he grew up in a working class neighbourhood in Buenos Aires. Before he found his divine calling and set of for seminary school he held a number of jobs, which included working as a lab technician and even as a bouncer working the door and tossing out drunks at a nightclub.
In fact, Yerba Mate's religious associations run deep. The very word 'mate' comes from the word used by the Guarini indigenous people of what is now modern day Paraguay to describe the squash like vegetable that they would hollow out and use to brew their sacred tea leaves. Sharing this tea was (and still is) an important custom, and would signify comradely among the social group.
When the Spanish arrived in the 1500s, they were first wary of this indigenous practice and wrongly jumped to the conclusion that this hot leafy beverage was some sort of vice. However, after seeing the many now scientifically proven benefits of the brew, they soon took on the practice of consuming it themselves.